STRUGGLE CONTINUES FOR POSSEBON
Submitted on Fri, 03/02/2018 - 09:28
Former Manchester United wonderkid (and colleague of both Fabio and Rafael) Rodrigo Possebon has his career in shambles after being released from a Vietnamese football club Ho Chi Minh City. The player used to be a top rated defensive midfielder when he signed to Old Trafford from South America.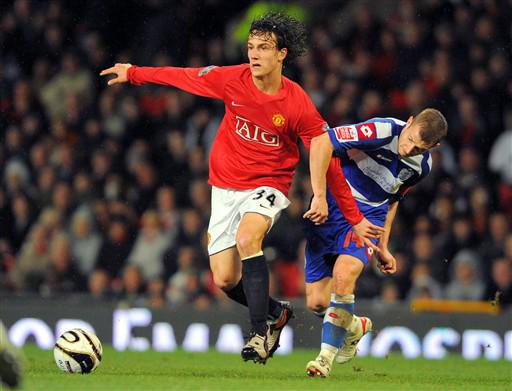 United's Brazil-based scout John Calvert-Toulmin recommended the player to then manager Sir Alex Ferguson whilst he was on scouting duties for Fabio and Rafael Da Silva.
Following the success of Cristiano Ronaldo and Wayne Rooney, the Red Devils wanted to get more highly rated teenagers. Fabio da Silva was a target in full back role but the club had to get his brother Rafael as well.
It was during the scouting job that the scout recommended Possebon, who was with Internacional. United spent about £3m to sign the youngster in 2008.
The then 18-year old started his career at Old Trafford on an impressive note, making his debut off the bench in the 2008/09 football season. He was the replacement for club legend Ryan Giggs when United clashed with the Magpies, which ended in a 1-1 draw, and at one point he was the subject of a Betfair promo code 2018 which offered double odds on him making it into the Brazilian national side.
However, things quickly turned sour - the player could only make two more appearances at the club in a career that was blighted by injuries. Possebon was in the team that faced Middlesbrough in a League Cup game in 2008. He picked up an injury and that marked the beginning of the end of his United career.
Eventually he was sent out on a season-long loan to Braga the following year. He could only play once for the Portuguese outfit so he had to return to United. He had to exit the top Premier League side, returning to South America to feature for Santos.
He played there in 30 games before returning to Europe to feature for Italian side Vicenza. He could not hold down a shirt so he had to return to Brazil, where he featured for some teams. He moved to Vietnam early this year but the club Ho Chi Minh City dropped him after only six weeks due to injury and fitness concerns.
It must be galling for Possebon, who was once one of the most highly-rated players in World Football, to have sunk to the level where he cannot get a team in any of the big leagues, whilst his former colleagues (probably including some players he considers himself to be better at football than) continue to perform at the highest level.
Need More?