Rafael da Silva recalls how Sir Alex Ferguson confused him with Fabio
Submitted on Sun, 09/24/2017 - 08:20
Former Manchester United right-back Rafael da Silva has recalled an amusing story about how Sir Alex Ferguson would struggle to differentiate him from his identical twin brother Fabio in first-team training.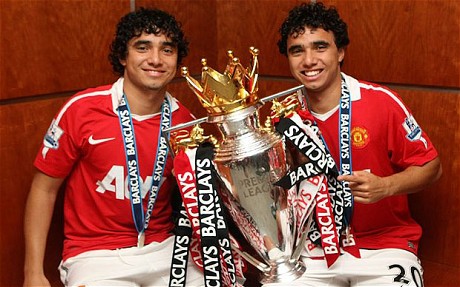 The Da Silva brothers were first spotted by United scouts when they were playing as 15-year-olds for the Fluminense's youth side. Ferguson, in particular, was impressed by the progress shown by the twins, and he decided to pursue them in the summer of 2008 once they turned 18.
Rafael made an instant impact in the starting lineup at right-back as he managed to capitalise on the injury concerns of senior duo Gary Neville and Wes Brown. He attained 28 appearances during his season at Old Trafford while scoring a fine debut goal against Arsenal at the Emirates Stadium.Fabio, on the other hand, had struggled for fitness during his early United career, and he could not dethrone Patrice Evra, who was at the peak of his form in the left-back spot.

During this period, Ferguson had difficulties distinguishing the twin brothers, and Rafael shared his experience via the Manchester Evening News, he said: "It happened many, many times. It wasn't rare that before training he'd look at me and say: 'Come on, go to the left wing.' When that happened, I used to just look at him. Then he'd go: 'I meant right wing, Rafael!' It's funny to remember it - Fergie is a special person in my life."
Rafael enjoyed his best campaign at United during Ferguson's last season in charge, where he managed 40 appearances across all competitions. He also scored three goals in the 2012/13 season while securing his third Premier League winner's medal. The Brazilian has since switched clubs to Lyon back in the summer of 2015, but he still considers the Scot as the best head coach he has had the privilege to play under.
Need More?